Technomad Modular Military PA Systems
Use "building blocks" to make a PA / Giant Voice system that covers VERY large areas – many square miles. [Please note: for many applications – small bases, mobile audio – a Turn-Key PA or a FireFly is the best choice]. Technomad modular systems come integrated into rugged flight cases and NEMA / IP66 enclosures, and set up quickly. Permanently installed or mobile applications – no problem. System elements join together using Ethernet, Twisted Pair, or wireless digital 'Link Kits'.
Typical Applications: Giant Voice / Mass Notification / Big Voice systems, Site-Wide Paging, Mass Notification, Deployed Tent City Communications, Force Protection, Flight-Line PA Systems, Rapid Setup Large Area Audio Systems, FEMA CPG 1-17 / UFC 4-021-01 systems.
Audio Source Pack – generates audio for the system
Audio source pack generates audio. Source pack includes: flight case, CD-      player, expandable 6-input mixer, and a hand-held microphone. Add an optional SuperConductor for automatic message playback.  The Source Rack is pre-wired. No setup is required. Product# 472-tno-839
Link Kits – distribute audio signals over long distances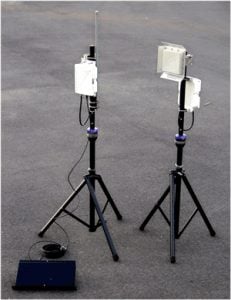 Link Kits send audio from Audio Source Packs to one or more Output Packs. There are several varieties of Link Kit:
Twisted Pair Link Kits – Simple, easy to setup, CD-quality audio over traditional telephone twisted pair copper wire, OR spare twisted pairs in multi-conductor CAT-5 wiring.  Ranges up to three miles.  "Star" (one-to-many) or "Daisy-Chain" (one to one to one) configurations. Great for fast, robust field deployment, or permanent install.  Best audio quality, lowest cost.

Ethernet Link Kits – Have an existing Ethernet network? Connect Technomad PA components over your network using the Ethernet Link Kit (one Ethernet Link Required per PA Element, i.e. Audio Source Pack, Output Pack, etc). Good for leveraging existing network (if access is permitted).  Excellent audio quality, and "zone" control is an available feature (page specific areas of your facility). Moderate Cost.

Wireless Link Kits – Need wireless deployed audio links between your command center and remote PA systems?  Use Technomad Wireless Link Kits.  Range between links up to 6 miles.  Robust Ad-hoc Mesh networks are created over 2.4/5.6 GHz Wifi frequencies. Flexible, fast setup,  No wires.  Highest cost, occasional brief audio dropouts are possible in heavy RF environments. Zone" control is an available feature (page specific areas of your facility).
» Click Here for detailed information about Technomad Wireless Link Kits
For 180-degree coverage up to 1/2 mile, select the Output Pack NEMA Directional 1 (based on 2 Pismo loudspeakers).
For 360-degree coverage up to 1/2 mile, select the  Output Pack NEMA Omni 1 (based on 3 Pismo loudspeakers).
For 360-degree coverage up to 1 mile, select the
Output Pack NEMA Omni 1 (based on 3 Omaha loudspeakers)
Accessories – we offer many options to enhance the performance of your system. Some include:
SuperConductor™ Flash RAM Player- Recorder with Automatic PlaybackRack Mounted, User-Programmable Automatic Audio Player. User can load hours of audio via Ethernet (or by removing internal USB stick and plugging into a host computer). Sounds can be assigned in any order to rotary knob. Screen displays selected sound. Knob can be pressed to start-stop playback. Looping, one-shot, or press-to-hold play modes. Ideal for local-language messages, ceremonial audio, sirens, warning tones, combat simulation, PSYOPS, and more. Sounds can be programmed to play automatically on any schedule using internal clock.[ click here for more info ]
24V DC Power Option – run from vehicle power, or use DC power for emergency backup
220V 50/60 Hz 'Global' Power Option – run from non-US AC power.
 
Wireless Microphone – 1 high quality handheld wireless microphone system. VHF. Integrated into any technomad military PA system. Operating range up to 200 yds, dependent on weather conditions and RF environment. US frequencies. Installed in PA rack at factory if ordered with PA system. Range: up to 100M depending on RF conditions.  Handheld, Lapel, and Headset versions available.
LMR Interface– Land Mobile Radio Receiver allows user to tie existing P25 LMRs into Technomad PA System for paging, mass notification.
Telephone System Interface – auto pickup – allows any standard POTS line to patch into and page through the base PA system.
 
Wireless Microphone – 1 high quality handheld wireless microphone system. VHF. Integrated into any technomad military PA system. Operating range up to 200 yds, dependent on weather conditions and RF environment. US frequencies. Installed in PA rack at factory if ordered with PA system. Range: up to 100M depending on RF conditions.  Handheld, Lapel, and Headset versions available.
LMR Interface– Land Mobile Radio Receiver allows user to tie existing P25 LMRs into Technomad PA System for paging, mass notification.
Telephone System Interface – auto pickup – allows any standard POTS line to patch into and page through the base PA system