The Technomad SuperConductor™ Military Audio Player
The ultimate military audio player / recording system for government & military applications.The SuperConductor offers both instant playback of your audio via a convenient knob and screen, and also allows you to schedule sounds for automatic unattended playback.
Reveille every day at 06:00, safety announcements every 30 minutes, a special announcement every Saturday at 10:00, etc. With robust flash-RAM memory (no hard-drive) the SuperConductor message repeater is tough and reliable – and unlike a PC-based solution, it can't catch a virus or crash due to operating system errors. Robust internal Real Time Clock (RTC) ensures accurate time for years. Use an internet Time Server for perfect time-keeping. Unit can be remote-controlled by Ethernet.
New Version 4.0 Software! To-the-second scheduling, 300% faster file upload speeds, more accurate RTC, user-editable UI, two password levels (admin and control-only), and lots more!
The SuperConductor integrates with any Technomad Turnkey or Modular Military PA system, or can be patched to existing audio systems (i.e. internal building audio systems) using standard line-level cables.
Applications: the SuperConductor is perfect for sirens and alerts, combat simulation, military bugle calls, training, music playback for ceremonial use / change of command, entertainment, automatic safety announcements (i.e. 'airport announcements'), local-language message playback (record a native speaker saying useful phrases then play back instantly as needed), PSYOPS, base operation scheduling using audio cues, sound-effects, and much more.
Load sounds by simply plugging the SuperConductor's SD Card into your computer for fast file transfer (or transfer files over Ethernet). Or – field-record audio via the SuperConductor's built-in recording function, then schedule the audio for playback or assign to the knob for instant access.
Configure all functions of the SuperConductor via a convenient web-interface using your computer, OR configure the unit in the field with no computer using the knob and screen.
Features & Specifications (v2.14)
Dimensions:
1.75″ high, 19.5″ wide, 10.5″ deep (1U Rackmount)
Weight:
4 lbs.
Storage:
2 GB Standard – up to 2000 minutes of audio at high quality. Unlimited tracks (to memory max). Easy upgrades for more memory.
File Transfer:
Ethernet cable connects to PC, OR by removing USB Flash drive and connecting to PC.
Local Recording:
record audio directly to any knob position from the SuperConductor's line-in. Integral MP3 encoding keeps audio quality high, file sizes small. Use recorded audio in schedules for automatic playback (see below), and/or play the recorded audio from the assigned knob 'slot'.
Scheduling:
Unlimited scheduled events – sounds can be automatically played at any time of day on specific days of the week / weekdays / weekends, or at specific days. Sounds can be repeated and looped as part of of a schedule. Audio files played from the front knob interrupt scheduled audio (for emergency warnings, etc), but scheduled audio resumes with next event start. Up to 100 lines of scheduling can be created.
Instant Access:
Audio files can be assigned to any of 99 Knob positions – these audio files can be selected from the knob on the front of the unit, and played instantly. Sounds can be set to loop indefinitely, play once through, or play only while the knob is pressed in.
» Try the Interactive Web Demo
Ideal upgrade from:
Roland AR-100, AR-200, Ar-3000, EV-20R TOA message repeaters, alarm co digital message repeaters, Alcorn-McBride digital audio machine, Sonorous, and other commercial-grade audio playback systems.
Password-protected
Password-protected front knob lock out
Remote control
Remote control of unit (play sounds, stop sound playback) via network CGI-command language
Edit schedule
Edit schedule of units remotely via network
Upload / delete
Upload / delete sounds in unit remotely via network
Power:
110V AC power
Inputs:
1/4" mono jack
Outputs:
1/4" mono jack
Screenshots of Web Interface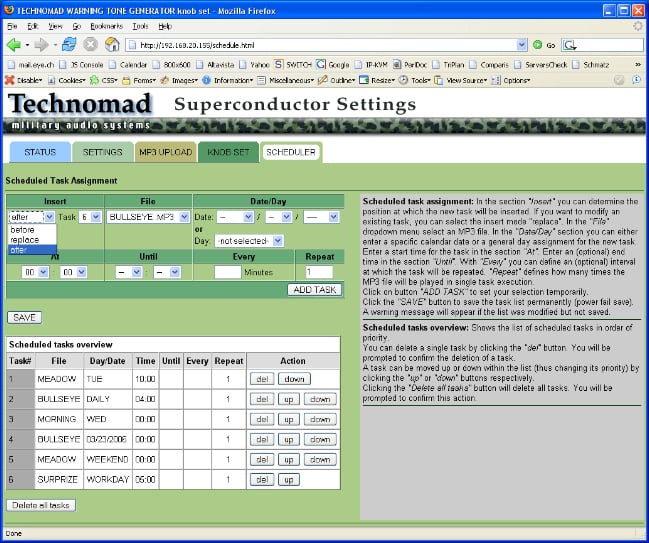 Easy scheduling – you can assign sounds to play on any day or days of the week at specific times. Sounds can be played once, or repeated multiple times. Sounds can even be set to play from a start time to an end time at specific intervals – i.e. from 09:00AM to 18:00PM every 15 minutes.In the example shown , the sound "Meadow" plays on Tuesdays at 10AM, the sound "Bullseye" plays every day at 04:00, the sound "Morning" plays on Wednesdays at midnight, "Bullseye" also plays on a specific date (03/23/2006) at midnight, "Meadow" plays on weekends (Saturday and Sunday) at midnight, and "Surprise" plays on every workday at 05:00.You have complete flexibility in setting up your audio schedule – making the SuperConductor perfect for time of day announcements, alertness reminders, Reveille, Taps, Retreat, and similar scheduled sounds.The same scheduling can be used to create realistic and constantly changing combat simulation or weather sounds for training purposes.And don't forget, you can override the scheduled sounds at any time by grabbing the handy front knob and selecting a sound for instant playback. This is useful if an emergency requires an operator to interrupt a time of day announcement to play a warning siren.
Additional Photos
All trademarks referred to on this page are owned by their respective owners.
Alternative product spellings: Super Conductor